A story of punk rock and squat — Kerrang!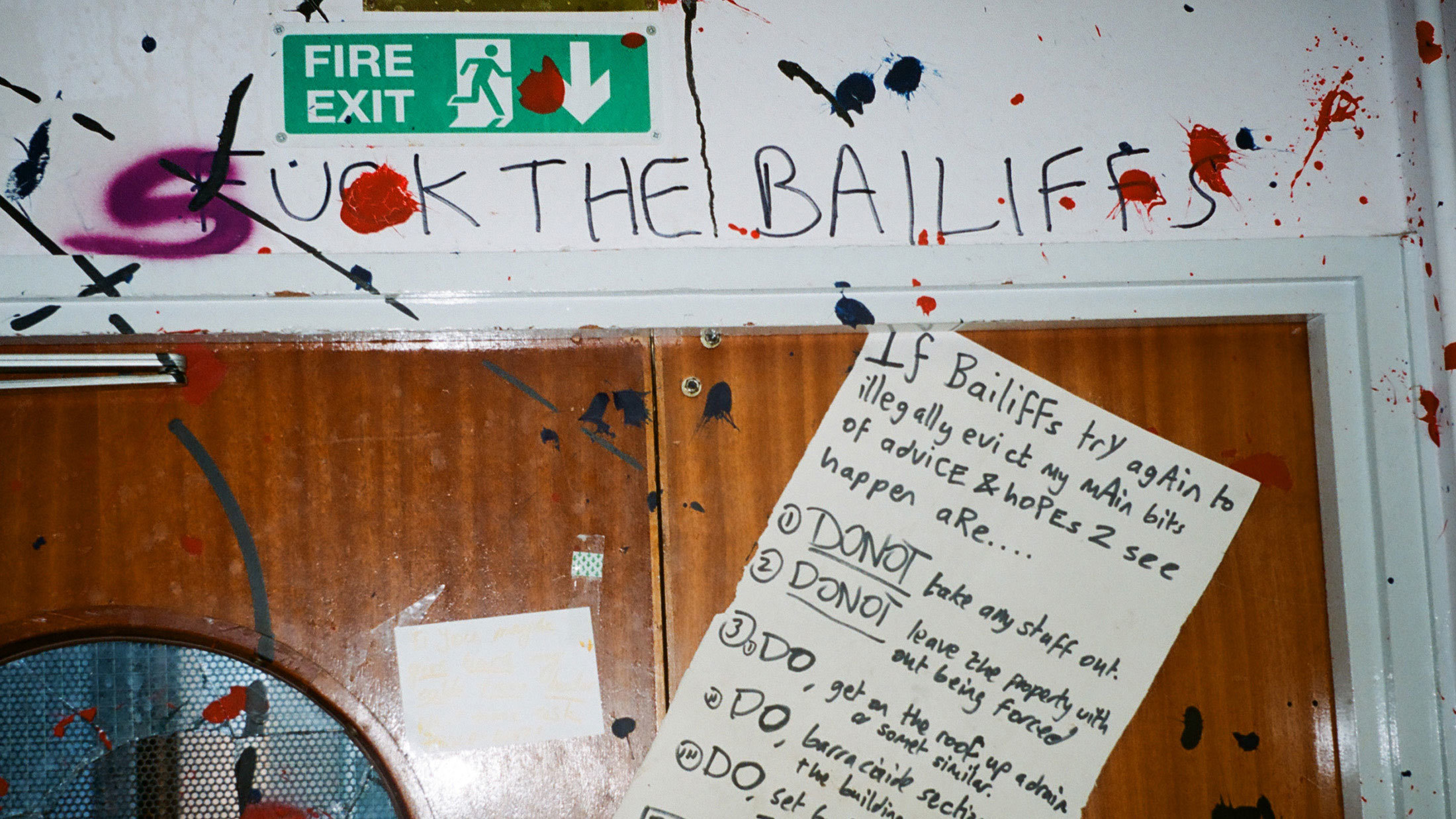 'Get up! To wake up! We share a common fate / Give up the system, fight for squatters' rights!' Inner Terrestrials – Squatters' Rights (1996).
It's cold, bright Friday noon and Kerrang! waits outside a three storey office block just off a busy London shopping street. We meet Distras, a punk of South African origin who has been squatting here for two years. A double door opens and a guy in a bandana, Cyness t-shirt and backwards cap shouts at us.
Squatting is a slang term for living in a property without the permission of a landlord, tenant, or licensee. Many squat out of necessity and homelessness, others for ideological reasons, some for both. The term 'squatters' rights' often refers to Section 6 of the Criminal Law 1977, which makes it an offense for police to force unauthorized entry into occupied buildings, including squats. This was canceled in 2012 and since then it has been illegal to squat in residential buildings. However, squatting in non-residential buildings – like the one we visit today – is currently legal. You can even become the registered owner of a property or land if you (or your friends) have squatted regularly for 10 years or more. It should be noted, however, that the police can take action if you damage property, refuse to leave after being asked by a court, or use electricity or gas without permission.
The squat adjoins a nursery and looks like an old council office, the interior is full of graffiti, art, bicycles and the random belongings of the 20 people who live there. "This place has been a squat for three or four years. When I first moved in, I was staying in the disabled toilet downstairs," Distras explains as we walk up the stairwell.
"Someone moved out and offered me this big room. I thought, I have to do something with this space. It's not like we pay a lot of rent or anything! he laughs, referring to Panic Attack Studios, his first floor music studio room. It's a punk hideaway complete with instruments, amps, and a mattress. "A lot of things here have been ignored [recovered from skips in the area] then repaired," he continues, proudly showing off a recycled audio system and high-end video camera.
Vakaris, guitarist for hardcore Distras band The Chain Of Panic, is the backbone of the non-profit studio. Originally set up to record their own band, the studio has since hosted other artists including local busker Steve Broe, who had never recorded any of his music despite performing on the streets of London for decades .