Fans create a quack tribute to the punk rock legend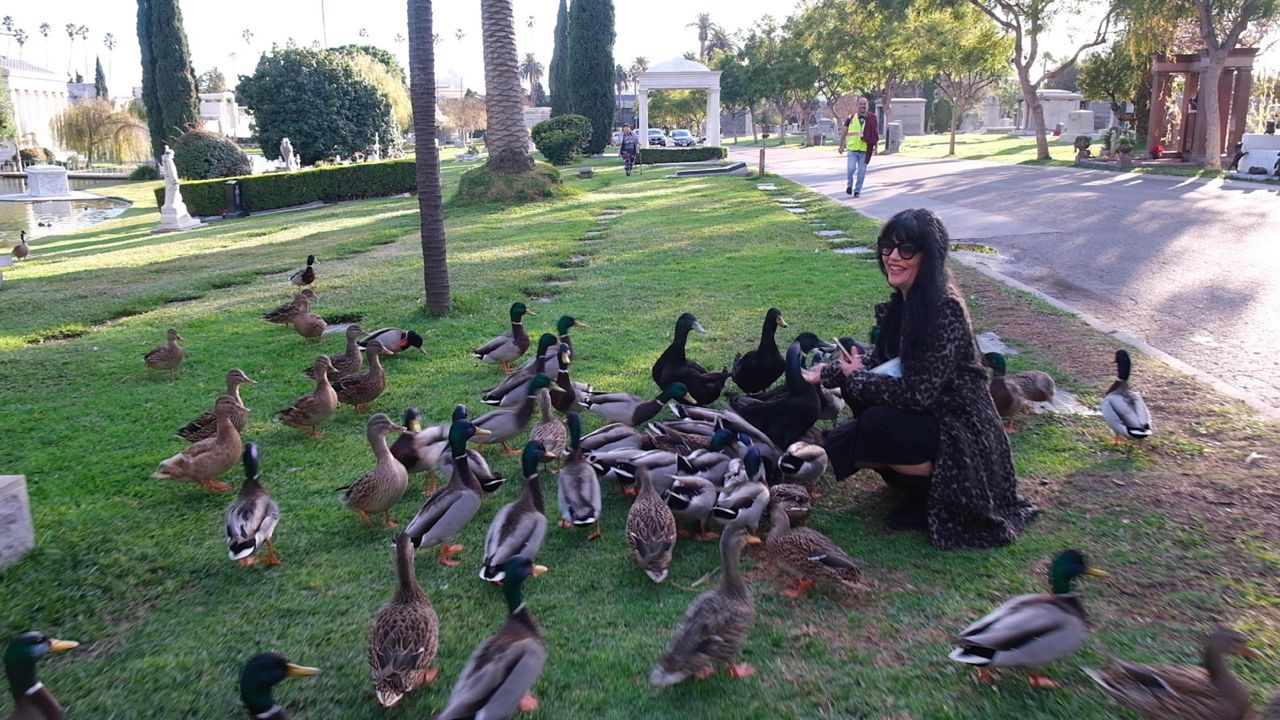 LOS ANGELES — Dee Dee Ramone once sang that he didn't want to be "buried in a pet cemetery," but now the grave of the founding member and bassist of the Ramones has become a veritable wildlife sanctuary at Hollywood Forever Cemetery.
It all started at the start of the pandemic when Pleasant Gehman and Coyote Shivers started feeding a small group of black ducks, which they dubbed the Ramones, after the iconic punk rock band. Then word spread throughout the avian community, and now daily feedings are like a mallard mosh pit.
"One day there were tons of them, so the number of birds we have is constantly changing here," Gehman said.
An avid Ramones fan, Pleasant has been coming to Hollywood Forever Cemetery since the 1970s, visiting Dee Dee Ramone's grave since his death in 2002. These days, she comes every day with partner Coyote Shivers to feed and party with the birds increasing in number. .
"Basically it went from five to between 35 and 100 a day," Gehman explained.
But it's not just the ducks that come. The cemetery is home to a surprising amount and variety of winged wildlife, including swans, peacocks, geese, and even the resident wildcats that have taken to the free buffet.
Gehman said coming to the cemetery has been therapeutic for her, especially during the pandemic.
"If you're sad or, you know, full of anxiety, like it was in the summer of 2020, it was like an instant mood swing," she said.
And to ring the duck dinner bell, the team created a cover version of the Ramones' "Blitzkrieg Bop" called "Duckskrieg Bop" with the "Hey! Ho! Let's go!" chorus now sung in quacks taken from the birds themselves.
Gehman said the main voice was that of a duck they nicknamed "Loudmouth" because its quacks can be heard clearly across the graveyard.
Shivers blasts his duck punk anthem through a portable Bluetooth speaker that gets the birds waddling almost immediately.
"My theory was that if I heard there was a party down the street, I might be interested in checking it out," Shivers explained. "But if I heard there was a party down the street and I could hear all my friends there, I would definitely go check it out."
Shivers said he probably got more joy out of it than the ducks, and hopes he and Gehman have started a new Los Angeles tradition that can be passed down from generation to generation.
"Like, you know, in 50 years there are kids and everyone, and I'm long gone, but the joy of watching the ducks walk to Dee Dee every day continues. I would love to see that," Shivers said with a smile.
And although Gehman and Shivers have been involved in many different types of creative endeavors over the years, Gehman said, "Coyote and I agree that this is probably the best thing we've ever done."
The Ramones Ducks have exploded on social media and although Gehman and Shivers fund their business mostly out of their own pockets, for them it's a small price to pay for such joy, and as Shivers said, the Ramones and ducks together… what could be better?